| About | Instagram | FB | LinkedIn | Spotify | Toss a coin to your witcher blogger |
Check out my other posts about medical school, life as a doctor, and so much more:
Chasing Dreams – a series chronicling my dreams & changing ideals, burnout, quitting the rat race, migration and trying to find my path in life
---
I had the privilege of sailing on Royal Caribbean's first ever Quantum Ultra ship, the Spectrum of the Seas, on a 5D4N cruise from Singapore from 21st-25th May, with a stopover at Penang. The ship made its debut 1 month ago in early May, so everything on the ship was quite literally sparkling and spanking new.
This sailing was one of only two roundtrips from Singapore, before the ship left for Shanghai, so the cruise was at its maximum capacity of ~4000 passengers (largely geriatric). The ship's decor, entertainment, restaurants and facilities are targeted towards a Chinese audience, as Shanghai and Singapore will be its 2 main ports of call – Shanghai in the summer months, and Singapore for the rest of the year.
In today's post, I'll be writing about my vacation experience and sharing photos of this stunning behemoth of a cruise ship. Be sure to scroll the whole way down to read about my recommended tips & tricks to make your cruise vacation perfect!
Staterooms
My family managed to snag a good deal a few months prior to the sailing, and paid around $800-900/person (including taxes) for the whole experience. We had initially booked a balcony stateroom with an obstructed view as it was cheaper than a normal balcony stateroom, but when I completed our online check-in, I realised that we had been upgraded for free!
The balcony room sleeps up to 3 people, with the sofa converted into a bed. The room and toilet were pristine and all the furnishings were in perfect condition, a far cry from the other older Royal Caribbean ships I've been on.
The view from the balcony was stunning, and being able to enjoy the smell and sound of the waves from the comfort of our own room was a luxury. Each balcony comes with 2 deck chairs, a sided table and footstools, perfect for a lazy afternoon nap outdoors!
Highlights
The number of sports facilities and fun family activities available during the cruise was mind-blowing, with a good mix of low-intensity and high-intensity activities catering to all demographics.
The Sky Pad is a family-friendly bungee trampoline, where you're harnessed and given free rein to jump as high – or low – as you want! There's a Virtual Reality option as well, where you'll don VR goggles and choose one of three games that involve jumping to score points. I personally didn't try the VR option as I get dizzy pretty easily (I know, I'm a wimp).
The Flow Rider is a surfing simulator that's also found on other Royal Caribbean ships, and it's suitable for anyone who's relatively healthy; you don't' have to be extremely fit to do it. There are minimum height and age restrictions though, so smaller children might not be allowed to participate.
You can opt to try the Boogie Board (shown in picture above) or Stand-up surfing, both of which tend to result in people getting wiped out by the strong waves. I had tried the Boogie Board on a previous cruise, so I went for surfing this time instead and had a blast! For ladies, be sure to wear a one-piece costume or more covered-up swimwear (I wore my swimsuit with yoga pants) if you wish to avoid any wardrobe malfunctions…
iFly is a wind tunnel that simulates the experience of flying, and reservations were required. Guests were brought to the machine in groups, wearing jumpsuits and goggles. The instructor brought them into the tunnel to fly one by one, for around a minute each. The instructor will hold onto participants at all times, and a number of elderly were trying it with no issues, so it's safe!
The North Star required reservations as well, which we were unfortunately unable to get. It's basically an observation capsule on a massive robotic arm, and will give you a birds eye view of the sights around you. It's wheelchair-accessible and suitable for all ages, so be sure to make a reservation for your family (via the app) the moment you board the ship!
The SeaPlex is an indoor sports complex with table tennis, foosball, and a multipurpose court used for various activities throughout the day. It was hands-down the most fun area of the ship, especially for youths and families.
In the morning, the basketball court was used for yoga, and within minutes, was converted into a rink for bumper cars! In the afternoon, the area was used for casual sports tournaments (basketball, soccer shootouts, etc.) and free play. In the evening, they transformed it into the laser tag arena (Battle for Planet Z), complete with a massive inflatable maze, fog machines and strobe lighting.
The queues for bumper cars and laser tag built up very fast and took a long time to clear, so to save yourself time, make sure to show up to activities at least 15 minutes in advance to secure a spot nearer the front of the queue. This worked really well for us…and the 10+ fellow Singaporeans who also had similar kiasu ideas.
The upper floor of the SeaPlex had recreation areas with table tennis tables, foosball and augmented-reality games. We signed up for a complimentary introductory fencing class, during which they kitted us out in fencing gear and taught us basic moves with the foil. We had the chance to duel other guests and play with the electronic target boards, which was a refreshing experience!
There was also a rock climbing wall located just outside the SeaPlex, which I had fun attempting to climb.
With so many outdoor and indoor activities to enjoy all day long, you'll want to pack at least one set of sportswear, a swimsuit and covered shoes to make the most of your vacation! We were spoilt for choice, and I tried my hand at every single activity (except iFly and the North Star).
Food
The ship boasts numerous free dining options, from casual buffet dining at the Windjammer, to fine dining at the Main Dining Room. Both are open for breakfast, lunch and dinner daily, except on port days (when the ship stops over in a country), when only the Windjammer is open for all 3 meals.
The variety of food across both dining areas is astounding, and deciding where to dine for each meal is a personal preference. I would recommend opting for fine dining to get the most value for money, as the food served there is of far higher quality – you can always visit the Windjammer for seconds!
If you're strapped for time or have kids who won't enjoy the longer fine dining experience, then the buffet would be a better option.
We had extremely luxurious dinners in the Main Dining Room for all 4 days of the cruise, and I consumed copious amount of seafood, which would otherwise have cost me a small fortune if I had eaten the same dishes in a paid restaurant.
On your SeaPass card, a table number and dining time will have been preassigned to you, to ensure that you'll have the same server and be seated at the exact same table for the whole cruise (only applicable to dinner).
The menu changes everyday, and the range of dishes offered was drool-inducing. For the main courses, they offered steak, lamb, lobster, shrimp, as well as healthier options like chicken or vegetarian food. The dessert menu was well-curated as well, with unique desserts that I had never tried before.
Everything on the menu is free, and you don't need to feel ashamed for ordering a second – or third – portion! I personally ordered 2 appetisers every dinner (escargots and shrimp, food I usually can't afford), and our lovely server Karoline could see that I love seafood, so she brought my family 2 lobster tails each instead of the usual 1.
We had lunch in the Main Dining Room on most days, because it not only offered a buffet spread with more unique dishes (compared to the Windjammer), but also provided a la carte options during the quick service lunch. We were spoilt for choice, with customisable salads, seafood (pan-fried on the spot), and not to mention a glorious arrangement of decadent desserts!
For those looking for a more exclusive and unique dining experience, there are paid options at various onboard restaurants such as Izumi (Japanese cuisine), Sichuan Red (Chinese), Dadong Wonderland (Chinese), Teppanyaki (Japanese), The Hotpot Restaurant (Chinese), Jamie's Italian (Italian) and Chops Grille (Western).
If you're looking for a lighter meal or a quick snack, there are countless free cafes located throughout the ship to refuel at, including the Splashaway Cafe (salads, kebabs), Seaplex Doghouse (hotdogs), Sorrento's Restaurant (pizza), Cafe@TWO70 (salads, sandwiches, pastries). Paid options such as Leaf & Bean (tea, juices, pastries) and La Patisserie (cakes, desserts) are available if you're feeling bougie.
For your alcohol fix, be sure to try the Bionic Bar, where robotic arms will prepare your drink – alcoholic and non-alcoholic options are available – in front of you. We didn't personally order any drinks, but I had a fun time watching other guests have their drinks made! If you're posh, try the Vintages Wine Bar or the Schooner Bar, the latter of which has live music performances all-day round.
Entertainment
Royal Caribbean is known for its world-class entertainment on board all its ships, and this one is no different. The sheer scale of the venues on the Spectrum of the Seas raised the bar for cruise ship entertainment.
TWO70 boasts a literal 270-degree panoramic view of the sea, with floor-to-ceiling windows facing the stern of the ship. It doubles up as a massive lounge area where you can enjoy your light snacks & beverages from Cafe@TWO70, and transforms into an entertainment venue at night.
The Silk Road, an original production for this ship, was touted as a must-see show and had 5 showings in total throughout our 5D4N cruise. Prior reservations for a specific showtime were required (either via the app or in person) and each guest was limited to one show, due to low seating capacity.
The show featured a talented and diverse cast of singer, dancers and acrobats/aerialists, combined with impressive technology like robotic arms & advanced projections. The musical chronicled the journey of a Chinese princess as she journeyed across the eponymous silk road while impressively belting pop songs (I loved the lead actress' voice!). It featured her exploring new countries (they just had to use Jai Ho for India…I love the song but it felt so clichéd), meeting a desert wanderer and defeating enemies while singing a Beyoncé song. Overall, I would rate the show 11/10 for the production but 4/10 for the generic plot and the mishmash of pop songs that felt rather out of place.
On a more positive note, the nightly Headliner shows in the Royal Theatre were nothing short of stellar, and extremely fun to watch. A different show was put on every night, with 8.15pm and 10.15pm shows available for guests (depending on their Main Dining timing), and I faithfully watched all of them, because I know from past experience/cruises that their headliner shows are always excellent and enjoyable.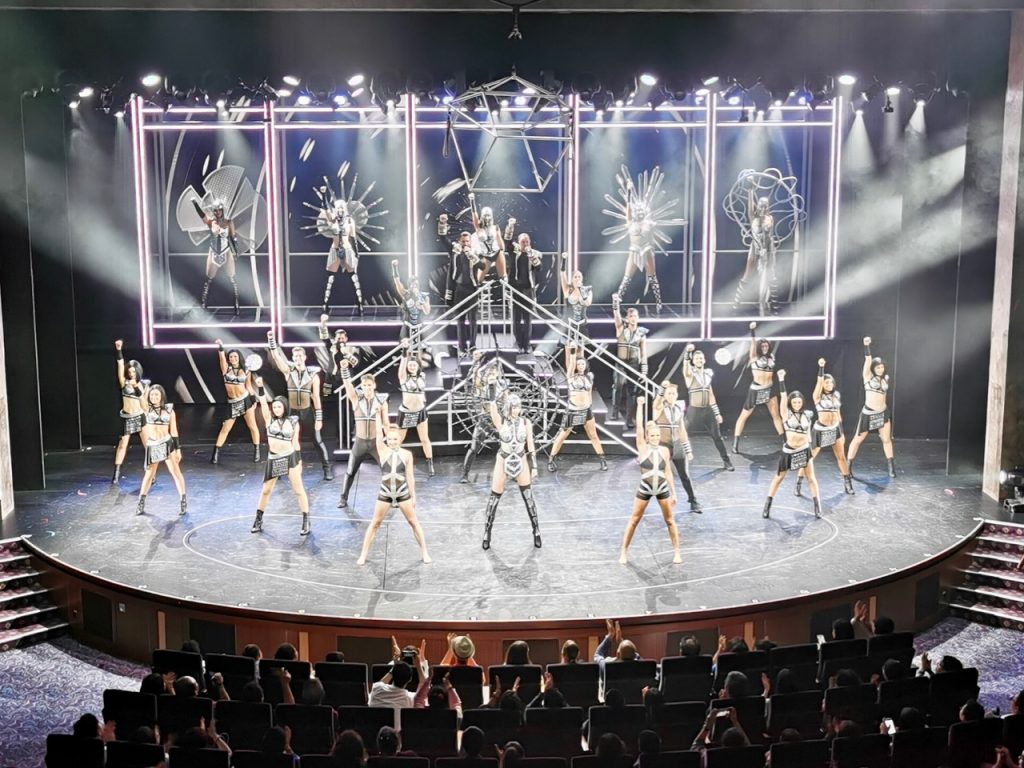 "Showgirl! Present. Future." is a Royal Caribbean original that centres around the evolution of showgirls from the 30's to the present day, with a stunning finale featuring futuristic showgirls. It was flashy and grand, with energetic dancing and endless costume changes set to an upbeat soundtrack with live singers.
On the other three nights, we were treated to performances by international entertainers and music groups.
The Beatles Maniacs, a Beatles tribute band, performed on the very first night and made all of us feel so very nostalgic with their spot-on impressions and covers of the legendary music group. At one point in their 45-minute set, they beckoned the elders in the audience to dance and sing along, and seeing them stand up and dance as if they were young again felt utterly magical and heartwarming.
GOLD: Art Duo, a couple hailing from Ukraine's Got Talent, took the stage with intense dance performances as a pair, as well as solo performances featuring breathtaking aerial gymnastics and amusing comedic antics.
Mo5aic, a 5-man a-cappella group with their very own Las Vegas show, entertained us on our very last night of the cruise with covers of songs with nothing but their voices. They also showed off their mimicry of animal calls, ambulance sirens, bass speakers – you name it, they can imitate it!
The 2-storey Music Hall had vibes reminiscent of a classy jazz hall, complete with a bar and an adjacent casino. Live music acts (including the Beatles Maniacs) played there at scheduled times throughout the day. Some games/activities such as family pictionary, music trivia and line dancing classes took place there as well, so there was never a dull moment in this lively hall.
Other live music venues include the Schooner Bar, Star Moment and Leaf & Bean Cafe.
The Royal Esplanade is home to all the duty-free stores, some paid restaurants/cafes, the Bionic Bar and Star Moment. Star Moment is a multipurpose lounge, hosting craft activities and live music in the daytime, and transforming into a KTV lounge at night, where numerous elderly guests belted out Chinese hits.
Facilities
If you find the air-conditioning throughout the ship too cold for your liking and want to soak up some sun, then you're spoilt for choice on this ship, with 3 pools to choose from!
Located right outside the Windjammer was the poolside movie screen, Splashaway Bay, and the only outdoor pool (the other 2 are not exposed to the elements). The movie screen was strategically situated such that moviegoers could enjoy the show from the comfort of the deck chairs, or lounge in the pool on the partially-submerged deck chairs (the blue and white ones pictured above).
The adjacent Splashaway Bay is a children's water play area, complete with 2 slides and many fun water elements perfect for your little ones!
If the sun and heat is too much for you, just nip to the nearby air-conditioned glass hall, which has an indoor pool and 2 warm jacuzzis.
This pool is perfect for rainy days, but the water was too cold for my liking. I chose to lounge in the shallow pool area on the submerged chairs instead.
The Solarium, also located on the same deck as all the other pool facilities, is a quieter spa-like retreat for adults. The whole area, including the lounge and the small pools, is heated. I didn't get a picture of the pools but they were shallow, with submerged seating areas for optimal enjoyment of the warm water.
Remember to use sun block before heading for a mid-day swim, especially in the outdoor and Solarium pools; those were extremely sunny in the afternoon, and you definitely don't want to have a painful sunburn as your cruise souvenir.
For gym rats, no fear, there's a small gym situated in the fitness centre. When I visited it (not to exercise), I noticed that there were very few machines and it seemed like a pretty tight space.
Final thoughts
I've been on over 10 cruises in my short lifetime, half of which were on Royal Caribbean ships (Mariner, Voyager), and I can say that this was hands-down the best ship I've ever been on, with unparalleled amenities, dining options and excellent service. Royal Caribbean really outdid themselves this time, and it's crystal clear why they're the only cruise line I will ever choose.
Despite occasional minor hiccups in how things were handled (eg. the zombie horde -esque crowd crammed in the Star Lounge on Day 1 when we were all trying to book the North Star, iFly & Silk Road directly with the staff), the cruise app's functionality & accuracy of information, the professional management and excellent service from the staff more than made up for any small inconveniences. We heard that only the top staff were assigned to the Spectrum of the Seas, and I certainly believe it!
The facilities, especially the sporting ones, were hugely enjoyable even for someone like myself, who isn't considered sporty by a long short (unless couch surfing counts). I was able to try my hand at so many activities which I would otherwise never have had the chance to do (because they're so expensive in Singapore), and getting impromptu sports lessons from the friendly staff was an added bonus.
Will I be going on another Spectrum of the Seas cruise when it comes back to Singapore in November?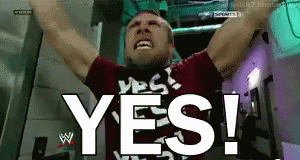 Vacation Hacks
Thanks for reading all the way, and as promised, here are some tips & tricks that every cruiser should know to ensure your vacation plans go off without a hitch!
Download the Royal Caribbean App before your trip and login with your reservation details. It will enable you to book facilities and show times more efficiently, saving you the hassle of manually booking it with the staff. For instance, we didn't manage to get a booking for the North Star when we booked it in person, as the mobile app users had snapped up all the reservations within an hour of boarding. You will be able to use Royal-wifi for free throughout the cruise, but only to use the app.
Make sure to show up to activities at least 20-30 minutes in advance to secure a spot at the front of the queue; the queue builds up very fast after the designated time, so why spend extra time waiting in line when you could just show up early? My family was kiasu and showed up 30 minutes early, but even then, some other Singaporeans were still earlier than us!
If you want to change the timing of your assigned dinner time (5.30pm or 8pm), just approach the counter staff at the Main Dining area and they'll help arrange for a swap, pending availability. We were initially assigned the 8pm slot, and attended dinner at 8pm on Day 1, as they didn't have any available swaps yet. But by Day 2, they sent a card to our room to inform us of the change in timing.
Sign up for a Crown and Anchor Society membership, it's free and you can accumulate Cruise Points for every night you sail on a Royal Caribbean ship. The points never expire, and the membership grants you both onshore and offshore rewards! I have 17 points/nights, and being a Gold tier (literally the second lowest tier still….) grants you access to a special check-in queue, which is a small but decent perk.
You should ideally book your cruise directly through Royal Caribbean's website, rather than through an agent, as the prices and discounts offered are usually better.
If you're thinking of cruising in off-peak months on older RC ships (Voyager, Mariner of the Seas), booking your cruise last-minute can give you great savings, as prices tend to drop significantly in an attempt to fill all the cabins.
I hope you've enjoyed this article, and if you'd like to read about other places I've been to (and learn new tips), head over to my travel tag here. For med school content and the rest of my blog, head to the home page and you'll be able to teleport to whichever tag you fancy!
I read every comment and message from y'all, so if you have any questions about the cruise or vacation planning, just reach out to me in the comments section below. Oh, and remember to follow me on Instagram or like my FB page for my latest travel/life updates and everything in between! 🙂
P.S. This blog is my passion project and self-funded, so if you enjoy my writing and want to contribute some spare change towards my annual WordPress Premium plan, why not make a little donation here? 🙂
---
| About | Facebook | Instagram | LinkedIn | Spotify |
If you're interested in exploring my blog, click here for an index of all the posts I've ever written (travel, doctoring, psychology, random musings), or check out my most read series below:
---