| About | Instagram | FB | LinkedIn | Spotify | Toss a coin to your witcher blogger |
---
A Koreaboo's Adventures in Seoul: Part 1 | Part 2 | Part 3 | Part 4 | Part 5 | Part 6 | Part 7 |
In this post, I'll be reviewing the most commonly visited shopping areas in Seoul and recommending the best route to visit all these places in 1 day if you're an insane shopaholic (like myself). We'll be covering Dongdaemun, Itaewon, IFC Mall and Times Square in this part. 🙂
Day 3
We covered the wholesale markets in Dongdaemun, went to the more modern malls in the vicinity of Doota and also went to Itaewon. It was a terribly damp day with a near-constant drizzle which became a downpour by evening, but that's what you get for going in July, their rainy season. We made a second trip to Dongdaemun on Day 9 for more shopping under better weather conditions, which I'll cover in the later half of this post.
Getting there: Myeongdong Station –> Dongdaemun Station (Line 4, Exit 8)
First things first, here's a map of Dongdaemun to give you a rough overview of how conveniently located all the malls are:
Dongdaemun
Suggested route: Dongdaemun Station (Line 4, Exit 8) –> Pyeonghwa Fashion Town –> Hyundai City Outlets –> Doota –> HelloAPM –> Migliore –> Maxtyle –> Goodmorning City
We crossed over one part of the 10km long Cheonggyecheon Stream; it's a nice spot to chill at but not really worth stopping for. The nicest part of this stream is at Gwanghwamun, which I'll cover in my later posts. If it looks familiar, that's because some scenes from Bigbang's Haru Haru were shot along the stream. (what a completely useless fact!)
Pyeonghwa Fashion Town was an amalgamation of old buildings stretching for a good 500m along the main road. We spent over an hour in there just walking aimlessly down the rows of small stores run by ahjummas. We left empty handed, because the items sold in there were things like fishing jackets, army pants, aunty-looking clothing, and lots of handkerchiefs. There were some stalls selling snapbacks and cheap bags on the ground floor, but the upper floors are not worth exploring.
We then stopped by the Hyundai City Outlets for a quick lunch and more shopping, and we chanced upon Jang Suwon's (SECHKIES) restaurant that served Singaporean food. Didn't bother trying it, cos what can beat our local hawker food?
It was pouring, so we sought shelter in Doota/Doosan Tower. The upper floors carried independent brands and boutiques, while the basement floors had generic brands.
The DOTS exhibition was free to enter and featured replicas of the set, as well as many cardboard cutouts of Song Joongki.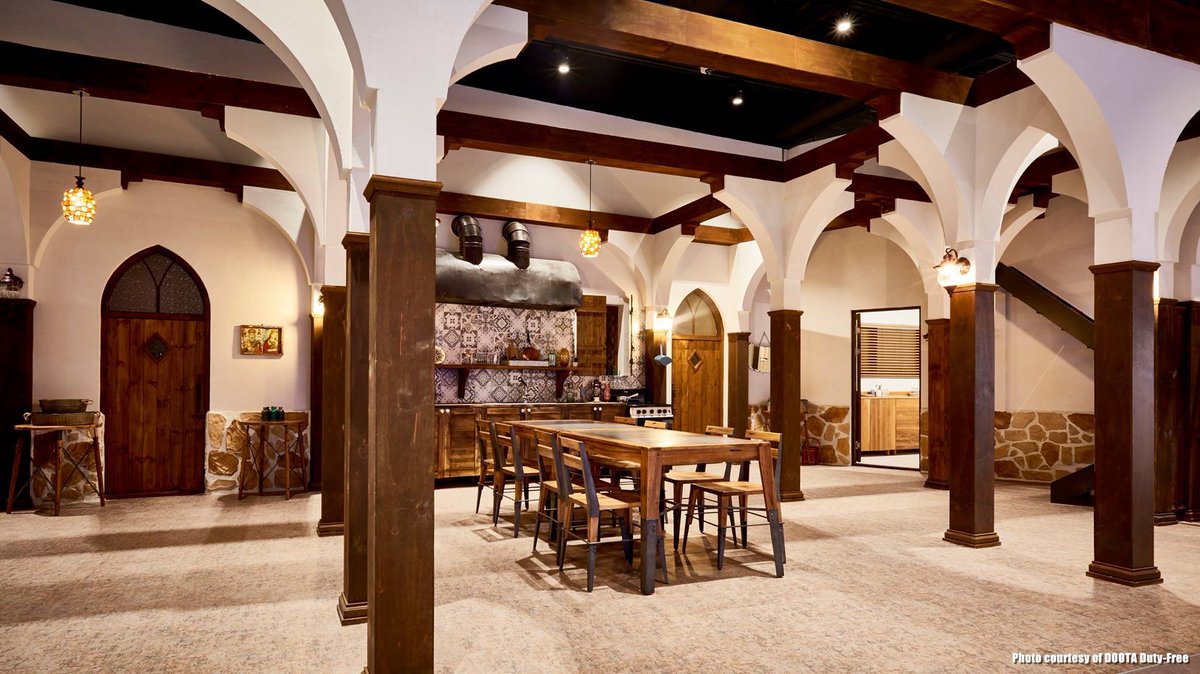 There was a queue for fans to take pictures with the various standees, and unsurprisingly, it only comprised females. We could explore the kitchen, the female lead's house and take pictures outside the Medicube. There was also a store selling (overpriced) official merchandise.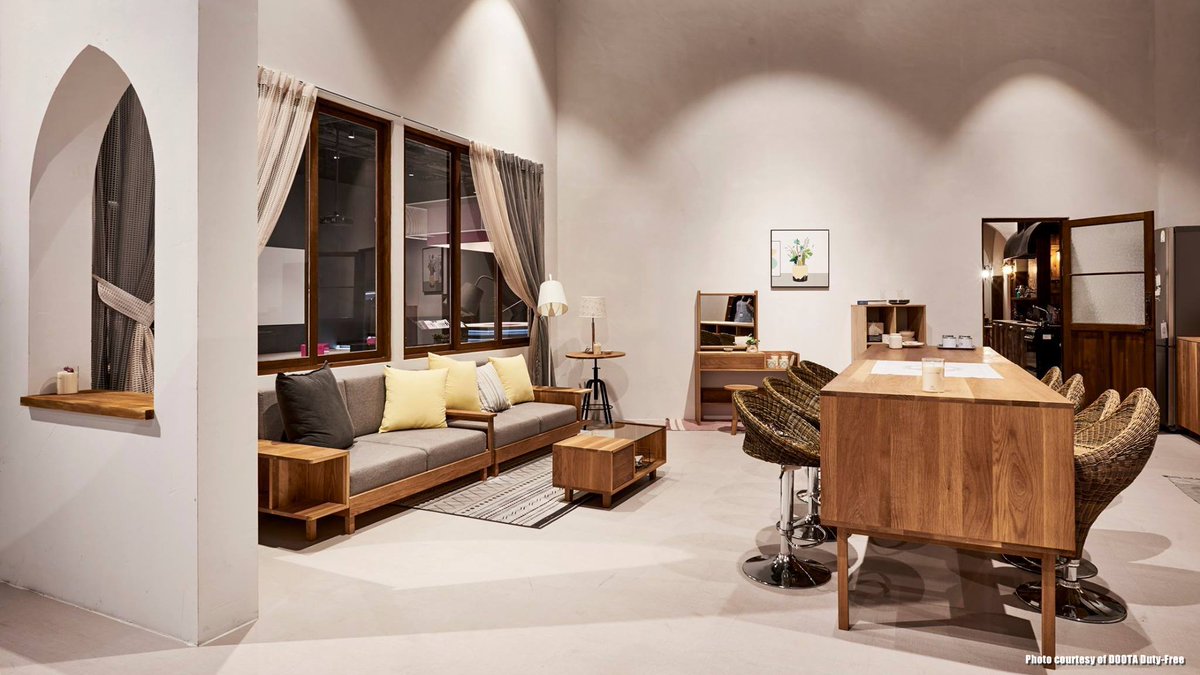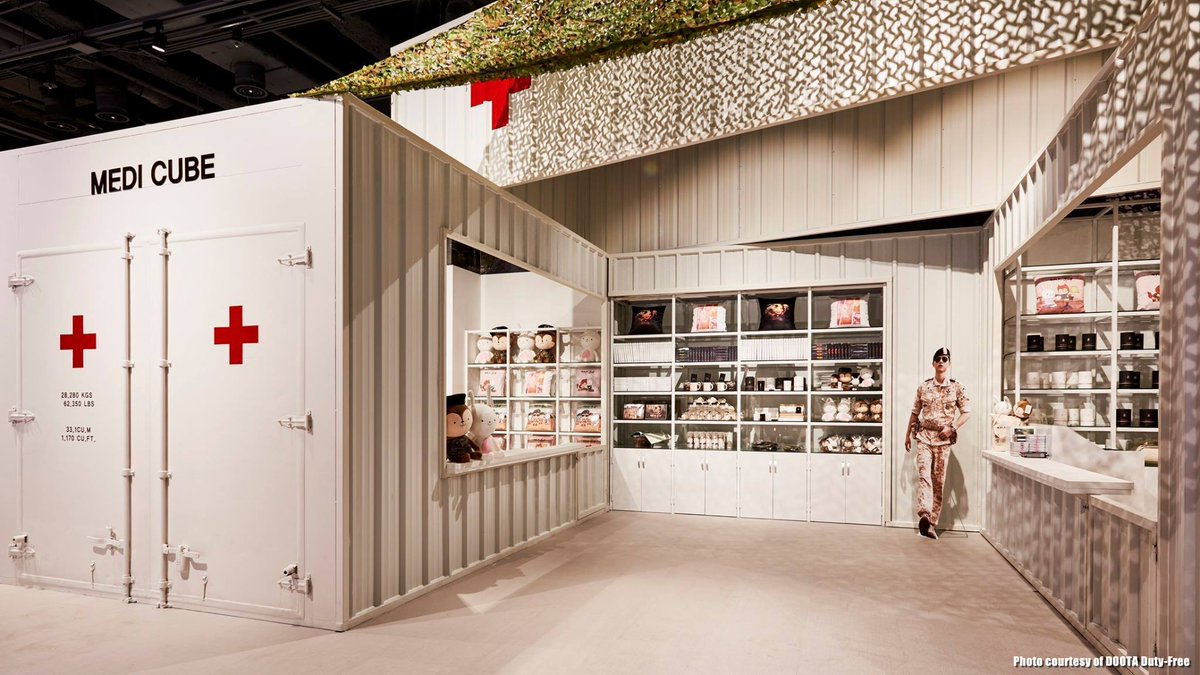 We then headed over to the other cheaper malls (HelloAPM, Migliore, Maxtyle, Goodmorning City), where the clothes on sale were far cheaper at around SGD$15-30 a piece. The stall holders can speak English and Chinese, so don't worry about the language barrier. Don't try bargaining though, they're unlikely to reduce the price unless you're buying at least 3 pieces from the stall; but the prices are very reasonable to start off with, and the clothes I bought there are still in excellent condition after almost half a year.
The interior of all the cheaper malls looked something like the picture below. The first few floors were selling women's clothing, and the upper floors sold men's and children's wear. Covering all 4 malls can get a bit boring and repetitive after a while, so if you're really pressed for time, I'd recommend just shopping at HelloAPM and Migliore, because they offer the widest selection for the best prices.
We didn't visit U:US and Designer City because most of the stalls sell to wholesalers only. If you have spare time, then you could check them out too!
Itaewon
Getting there: Dongdaemun History & Culture Park Station –> Cheonggu Station (Line 3) –> Itaewon
*Dongdaemun History & Culture Park Station is different from Dongdaemun Station, but they're on the same line
Itaewon didn't seem to have any particularly great shopping, it was just 2 parallel streets with random stores selling mostly sporting items. We just walked from Itaewon Station, along the entirety of Itaewon street to Samgakji Station, which was a good 2km away…in the rain.
I recognised the interior of Samgakji Station from an episode of Running Man….which probably means I've watched too many episodes for my own good.
Day 9
This was our 2nd jaunt to Dongdaemun, and we also covered IFC Mall and Times Square on that day. We spent around 2 hours finishing up shopping and chilling at the Dongdaemun Design Plaza, which was looked really beautiful on such a sunny day.
Times Square
Getting there: Dongdaemun Station –> Yeongdeungpo Station (Line 1)
As some of you might recognise, this is one of the malls that Running Man frequently films at, so this was a must-visit for me. There were many floors of affordable shopping, a movie theatre, plus many cafes and restaurants to recharge at. One could easily spend 3-4 hours here and leave with many bags in hand.
IFC Mall
Getting there: Yeongdeungpo Station (Line 1) –> Singil Station (Line 5) –> Yeouido Station
This mall was filled with high street and luxury brands, so it wasn't exactly ideal for shopping, but the mall was extremely spacious and offered great food options. IFC Mall is only worth visiting if you happen to be going to the Han River for sightseeing, and can be finished in an hour.
Other things to do there: Go cycling or paddle-boating by the Han River. The most popular part of the Han River is within walking distance of Yeouido Station, and there are a lot of outdoorsy activities to be done if the weather is nice!
Summary
Dongdaemun's best malls would be Doota, Migliore & HelloAPM, so be sure to visit those! Give Itaewon a miss, Hongdae and Edae are far more hipster and offer much better shopping.
If you want to go to all these places in 1 day, the best route would be Dongdaemun –> Times Square –> IFC Mall –> Itaewon
Happy exploring and may your wallet not be emptied after all that shopping!
A Koreaboo's Adventures in Seoul: Part 1 | Part 2 | Part 3 | Part 4 | Part 5 | Part 6 | Part 7 |
P.S. This blog is my passion project and self-funded, so if you enjoy my writing and want to contribute some spare change towards my annual WordPress Premium plan, why not make a little donation here? 🙂
---
| About | Facebook | Instagram | LinkedIn | Spotify |
If you're interested in exploring my blog, click here for an index of all the posts I've ever written (travel, doctoring, psychology, random musings), or check out my most read series below:
---